This review is courtesy of guest blogger Michael J Swart (blog, Twitter), who happened to buy the same keyboard that Sean and I bought, at around the same time. Thanks, Michael!
Score: 4/5




A couple weeks ago, I purchased the Microsoft Wireless Sculpt Ergonomic Keyboard and I'm really really happy with the purchase. I've actually never used any of Microsoft's ergonomic keyboards before and I'm wondering why I took so long. I actually wore the bumps off of the f and j keys on my old keyboard and that's what prompted me to look for a new one.
Good things
It's takes up less space than the earlier ergonomic keyboards.
The buttons are shallow.
It's wireless. Even the number pad is wireless and totally detached. It makes it look like a calculator. I think that's on purpose,  there are two calculator keys on this thing :-S
The nicest thing about the detachable keypad is that you can move it away (or even put it in a drawer) although, I do like an enter key at the bottom right.
My hands already know where almost all the keys are. I'm typing faster than I ever have before.
It's beautiful, It's so pretty. And it's the small things too. Even the battery cover is magnetic and really slick (batteries included of course).
I saw one guy complain about this thing taking up a USB port when he would have preferred a Bluetooth connection. Totally disagree. Requiring a Bluetooth connection would have prevented me from buying this thing.
There are no visual capslock, numlock or scroll lock indicators. That's on screen now. By the way, I think it's about time that Microsoft ditched the scroll lock key (maybe in favor of a third calculator key).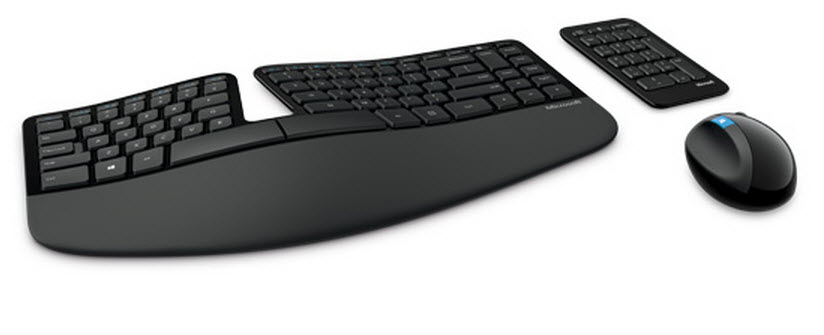 To interrupt Michael: We're also fans of the mouse. It's a nice ergo design (though I still usually prefer my trackball), with a scroll wheel, and a Windows key positioned near the thumb – that's that blue patch on the mouse, you can see  in the photo. -ed.
Look how wordy I'm being! That's how much I like this keyboard. But's it's not entirely perfect.
Bad things
The only keys I have to get used to are the Home/End/PgDn/PgUp keys. They're not where I'm used to them being and that takes some getting used to. There not in the same place as other ergonomic keyboard have them either.
The function keys (like my favorite Management Studio key F5) is tinier.
I can't one-hand Windows+L any more to lock my computer. I had to hack together a shortcut mapped to Ctrl+Alt+L to do the same thing with one hand.
It was hard to find one cheap enough in a store. I found one online which didn't include a mouse for a decent price. I definitely recommend finding one in a store to tap for a few minutes before taking the plunge.
It comes in any color you'd like as long as that color is black.
So that's it. I like it, and your tastes may vary.