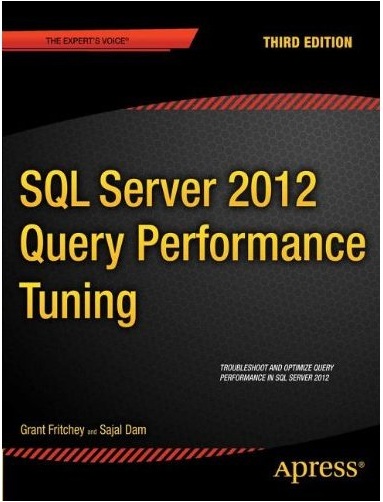 Book announcement of SQL Server 2012 Query Performance Tuning.  Bottom line: Go get it!
532 pages
Publisher: Apress (June 2012)
Buy on Amazon: Paperback (Update: The Amazon printing errors have been fixed!*)
ITBookworm Score: TBD
You may remember author and MVP Grant Fritchey from such outstanding books as SQL Server 2008 Query Performance Tuning Distilled (which we here at ITBookworm gave 5/5 stars), and MVP Deep Dives 2 (also 5/5 stars), among many others.  TODAY Grant announced that his new edition of Query Performance Tuning is available, and we're pleased as punch!
I'm going to run right out and get it.  And this, right here, is my guarantee that if YOU run right out and get it, you'll also be pleased as punch. Grant is an excellent writer and this is a fantastic topic, so get reading!
* A message from Grant: "If you have a bad copy of the book, please, immediately, get in touch with them at customersupport@apress.com. They know you're coming. You'll get a new, correctly printed, copy of the book. You'll probably have to provide them with receipts or something. That part I don't know."