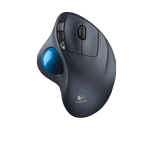 Quick Review: Logitech Wireless Trackball M570
Score (so far): 4.5/5





Trackball mice are out of favor with the majority of IT folk, which is a little ironic…considering they're supposed to help ease the symptoms of carpal tunnel syndrome, a very common IT handicap.  I personally found that after just a few minutes of using a trackball for the first time, I was completely used to it, and able to switch back and forth between that and a traditional mouse. (Think about this: Do you switch easily between a mouse and a trackpad? Same-same.)  I have also found that a trackball mouse really helps to prevent carpal flareup, while trackpads excacerbate them.
Today I went to my local Best Buy to peruse their selection of trackball mice, and as expected, found (and bought) just one model: The Logitech Wireless Trackball M570, my purchase price $49.99.  I ran right home and plugged it in.  Here are a few observations from the first few minutes:
Plug and play: I absolutely adore the modern-day usability standard: bring home a thingy, plug it into the computer, and it WORKS! I never get tired of things that just work. This trackball did just that.
The look: The mouse* is indeed ergonomic, comfortable, and fairly attractive. I'm not exactly sure why trackball designers feel the need to set a brightly colored ball against a drab background – it looks like bragging. It doesn't particularly bother me, but I suppose it'd be nicer if I had a sleek, elegant device.
Buttons: In addition to the trackball and two mouse buttons, this model comes with a scroll wheel that works out of the box, and up/down buttons that don't. I  downloaded the customization software from Logitech.com and customized the up/down buttons (they are now PageUp and PageDown!) 
The feel: A tiny bit lightweight for a trackball - I had one before with some heft, and I liked that. But otherwise, smooth sailing!  The trackball has a slight grindy feel to it that I don't like. I'd be interested to see if this is common to the model, or if I just got a grindy one. This is the first thing about the device that I truly dislike.  
(Edit: Twitter's @SirSQL recommended I remove the trackball and check for debris to fix the "grindy" feeling. I followed instructions and found no debris, but the trackball action is now smooth. Thanks, Nic!)
 Now that I'm looking at the SetPoint software I downloaded, it looks like this is a very versatile little peripheral. You can customize the up/down and scroll buttons to practically any function (and also set application-specific button settings), alter pointer settings and scroll size (default is 3 lines), check the battery levels, and change settings targeted for games. (Hardcore gamers, please review and get back to me.)  I particularly like – but have not yet tried – the single unifying receiver that can handle up to six wireless devices (keyboards, number pads and so on).
In all, it seems like a perfectly nice wireless trackball mouse. I'll let you know if anything on it falls apart.
-Jen
*Yes, I'm using "mouse" and "trackball" interchangeably in this article, as they fulfill the same function.