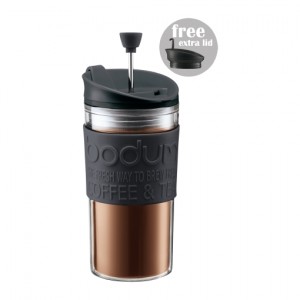 Just had an extensive my-coffee-contraption-is-better-than-yours discussion with Adam Machanic and Brent Ozar on Twitter, which inspired me to go out and get….something. So I can make coffee at work. (Work coffee is decent, but not GOOD, doncha know.)
Overall rating: 3/5    
Likes:
Comes with an extra lid
Nice shape/size/rubberized grip
Nice drinking lip and cover
Dislikes:
Plunger doesn't go all the way to the bottom. Doesn't really come close – there's a good 1″ gap.
Like any press, it's kind of a pain to clean IF you don't have a compost bin handy. (This isn't a problem at home, but it will be at work. I'll just take it home every day.)
Occurred to me as I was making my first cup: The plunger and lid go together. Once you plunge the coffee grounds, you can't very well remove the lid. This makes adding sugar and cinnamon (like I like) a little bit difficult, and stirring impossible.
As a result of that last bullet point, I've decided this travel press will likely be just a press-away-from-home gadget. I'll use it to make coffee and pour it into another cup at the office (or while I'm on the road) for actual drinking.   So on that front, it's good – much better than keeping a breakable glass.
So there you go. A couple of weaknesses in design, and a major weakness in the fact that it's a press.  In all, I'm still not unhappy with the $18 I spent (read: three or four cups at Starbuck's)…but I may still try an Aeropress at some point.
-Jen