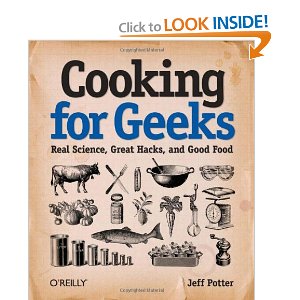 Cooking for Geeks: Real Science, Great Hacks, and Good Food – by Jeff Potter
I like food. I'm a geek. This is SO the book for me. Alton Brown fans, take note.
This is a slim, dense tome with a (for me) nostalgic blue-graph-paper-pattern edging, a conversational tone, and tons of illustrations and asides. Simply stated, I really wish I had the time to read and work through the whole thing, but it isn't the kind of book that you have to. Flip to any given page, and it will grab your attention with…let's see here…an aside on "Seeing Caramelization with Sugar Cookies" (p 211), or the opening sentence of Chapter 3: "You open your fridge and see pickles, strawberries, and tortillas. What do you do?"
The companion website features cool videos like this:
In short: Cool, fun, well-done book about cooking…for geeks!