I'm glad to see that there's at least one company out there who's finally starting to recognize that homes have more than one computer. With every software vendor out there you have to buy a complete license for every box in your house, and for some of us that's quite significant. Raxco has taken a bite out of that though by offering home licensing.
So when you buy a home license, you can install on up for 4 boxes in your house for only $20 more. This licensing is for the following products: PerfectDisk 12 Professional, PerfectDisk 12 Home Premium, PerfectDisk 12 Home Server, PerfectRegistry, PerfectUpdater, PerfectSpeed PC Optimizer and the PerfectDisk 12 Home Premium/PerfectSpeed Bundle.
The way they advertise it on the site though is a little misleading. When you initially look at it on the front page, they say that it covers every computer in your house.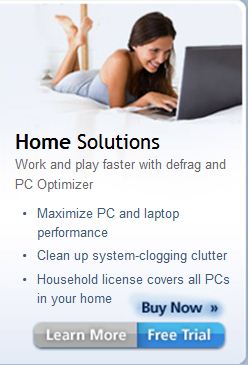 However, like I said above, when you dig into the specifics, it turns out that "all PCs in your home" means up to 4 boxes. That's okay though because that'll cover most houses probably. Me however, I have 3 computers all by myself, and my Jen has 2 and my daughter has 1 and both my boys each have 1. So we'd need a couple licenses to cover all of us. But the question is, are we really all that unusual? I'm finding more and more people with multiple computers.
So anyway, I love that Raxco is doing this, and I fully encourage other companies to wake up and realize that you shouldn't have to spend an arm and a leg just to cover the computers in your house. Times have changed. There are a lot of people in IT, and we all bring our work home with us and we all have multiple home computers… everything from laptops and desktops to media servers. No longer are we stuck with just a single computer where everyone takes turns. That's a scenario that has now gone the way of the single phone hanging on the kitchen wall. For some reason though, most companies are too busy nickel and diming us to care about what really matters. Seriously, nice job Raxco!
-Sean McCown, http://www.ITBookworm.com