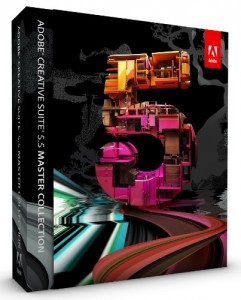 This is going to be a fairly short review on the overall CS5 Master Collection.  I'm going to talk about the install process as well as a comprehensive list of the apps found in this suite.
Installing this collection is easy enough, but my previous objection to the length of time it takes still stands.  And the installer still forces you to close all other programs so you're essentially dead in the water while it's going.  I'll admit that the install was a little quicker for me because I had an digital downloaded copy instead of physical media, but for those with retail copies it'll still be just as painful as before.
CS5 is a huge collection of apps that is really hard to wrap your head around.  And not all of them have had the same level of enhancements as the others.  You'll be glad to know that Photoshop has had some significant improvements and so has Flash, but I find that other apps like Contribute, Soundbooth, and Dreamweaver are still basically the same as they were in CS4.  And then there's Acrobat, which didn't get a new version at all for this release. 
I want to be perfectly clear here though.  CS5 is a masterful release overall.  I love so many of the enhancements across the line, and they work together better than any past release.  I just want you to be aware that not all of the apps in the suite have had major enhancements.  And while I haven't reviewed all the apps in the suite, I've selected some of the major ones so you could see how they're fairing.
At any rate, CS5 Master Collection has enough apps in it to make it worth your while and even though it seems a little pricey, it's really not that bad once you add up everything you can do.  Here are the components you'll find in this suite.
Creative Suite 5 Master Collection components
Adobe® Illustrator® CS5
Adobe® InDesign® CS5
Adobe® Acrobat® 9.3 Professional
Adobe® Flash® Catalyst™ CS5
Adobe® Flash® Professional CS5
Adobe® Flash® Builder™ 4 Standard
Adobe® Dreamweaver® CS5
Adobe® Fireworks® CS5
Adobe® Contribute® CS5
Adobe® Premiere® Pro CS5
Adobe® After Effects® CS5
Adobe® Soundbooth® CS5
Adobe® OnLocation™ CS5
Adobe® Encore® CS5
Adobe® Bridge CS5
Adobe® Device Central CS5
Adobe® Media Encoder CS5
Adobe® Extension Manager
Integrates with Adobe® CS Live online services*